Israeli repression, which had prevented people from holding the 'Right to Water' march last weekend, could not stop Palestinian popular resistance and their struggle for water and rights. After Israeli forces had raided last week Baldara village, turning off the water supply and closing off the roads to impede the Right to Water march, Israeli forces opened fire with live ammunition injuring five youth with one of the youth being detained for 48 hours. Yesterday, the Right to Water Campaign and the Popular Council to Protect Jordan Valley re-organised and proceeded with their 'Right to Water' march.
Approximately 500 men, women and children challenged Israel's unwarranted actions and peacefully marched for their right to water carrying signs saying "Depriving us of Water is a Crime Against Humanity" and "We are here to Take Back our Water".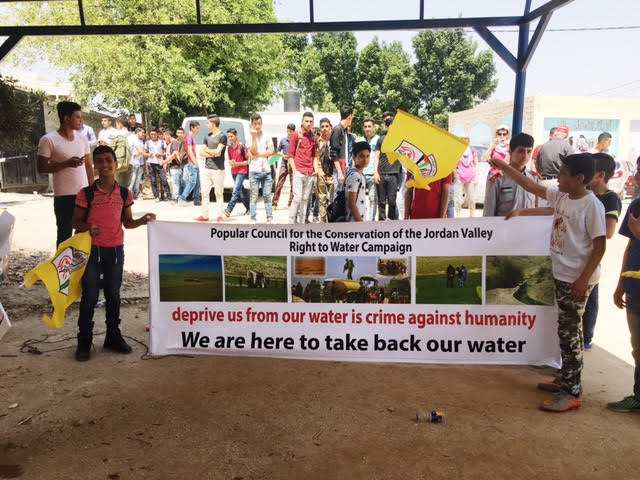 On 27th April 2017, 40 Israeli soldiers raided the village of Bardala with 4 bulldozers and informed the locals that all their water outlets will be closed. They destroyed the main pipelines that supply water to Palestinian farms, they confiscated 168 meters of steel pipes that belong to Bardala local farmers and the village. For more about Israel's history of water theft in Bardala, aimed at desiplacing the community can be read here: https://stopthewall.org/2017/04/29/join-our-march-right-water

Time and time again Israel continues to breach basic human rights. Not only is Israel depriving Palestinians off their own water, both the Israeli government and water company Mekorot are profiting of the fact that Israel systematically steals Palestinian water resources.
Water is a basic human need and right under UN Resolution 64/292, which "recognises the right to safe and clean drinking water and sanitation as a human right that is essential for the full enjoyment of life and all human rights."
Today as the people of Baradala marched, the atmosphere was sensational and their determination and steadfastness was a reflection of this. Both girls and boys as young as eight-years-old, participated in the demonstration giving speeches to the media and raising their voices to be heard.

Not only are people firmly standing against the occupation, they are empowering and liberating their young people to resist and rise up as the next generation of leaders. The fight for the right to water against Israel's water apartheid continues to grow and strengthen.
Without doubt, the courage and persistence of these people who are fighting for justice will continue to prosper and they will take back what is rightfully theirs. Now is the time for us all to educate, advocate and act getting behind the good fight and those who are thirsting for justice.