Today marks the 32nd day of the freedom and dignity strike. As the hunger striking prisoners hold out – people in Palestine are being killed at checkpoints and on the streets.
During a march in solidarity with the hunger strikers that ended at Huwara checkpoint, Muataz Hussein Hilal Bani Shamsa, 23, from Beita (Nablus district) was shot in the head by an Israeli settler and succumbed to his wounds at the spot. Photographer Majdi Eshtayya was also injured with live ammunition shot by the settler and was transferred to Rafidiya Hospital. Many more have been injured by Israeli occupation forces during the ongoing protests of the last days.

Israeli ill-treatment of hunger strikers
As Israel's cruel policies and practices towards political prisoners lead to over 1,500 political prisoners to begin a dignity and freedom hunger strike on 17 April, 2017. It is no secret that Israel's treatment and torture of prisoners is inhumane, violating international human rights and humanitarian law. As a result of the prisoners taking action they have been subjected to both physical and mental violence to push hunger strikers to end their protest.
Addameer Prisoner Support and Human Rights Association have reported that the hunger strikers have been forced into solitary confinement, denied solicitor visits, denied recreational time and salt has been confiscated from them. Most notably and worrying is the fact that the Israeli Prison Service has made it difficult for independent medical professionals to visit and are bars prisoners access to clean drinking water.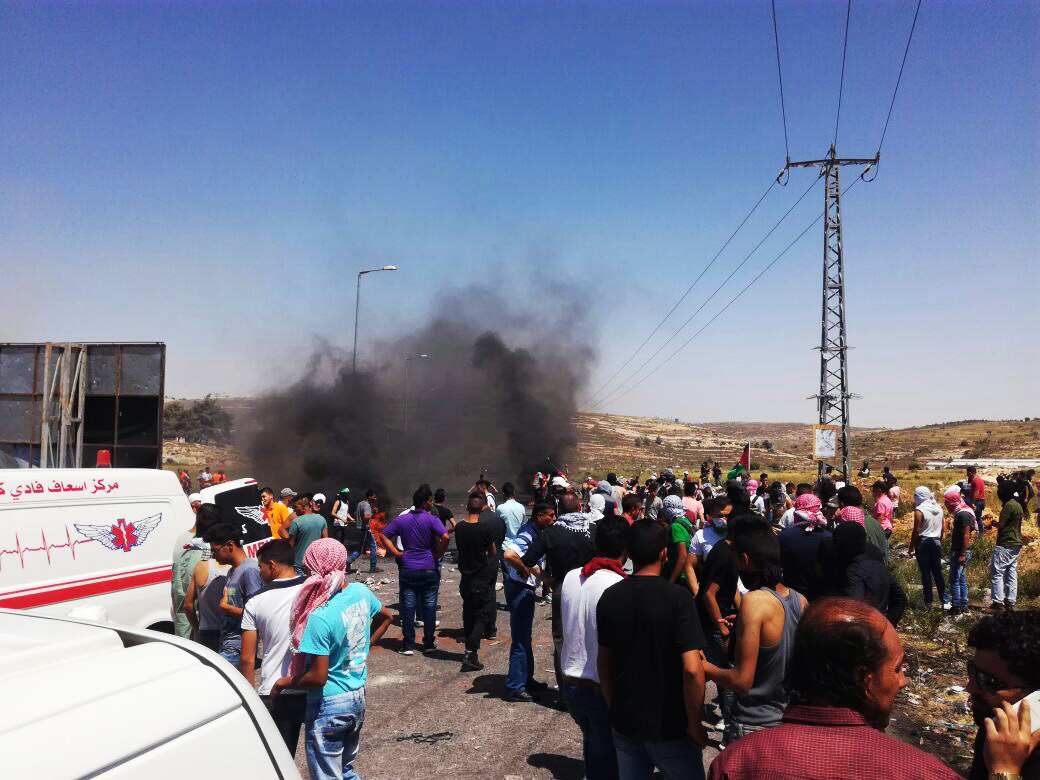 Respect existence or expect resistance
Israeli occupations forces are not being held accountable for their ill-treatment of political prisoners and as of yet no significant efforts have been made by either the Palestinian Authority or the international community to put pressure on Israel. Instead, recent days have seen solidarity demonstrations, road blockades, sit-ins and other solidarity events being held across Palestine in Bethlehem, Siwad, Ramallah, Hebron, Tulkarem Asker refugee camp, Jenin refugee camp, Esawya, Atour, old city of Jerusalem, Nablus, and surrounding villages.
Young activists have been blockading settler roads across the Occupied West Bank in solidarity with political prisoners, demanding Palestinian Authority support the prisoners and intervene to help the hunger strikers' demands be met before it is too late.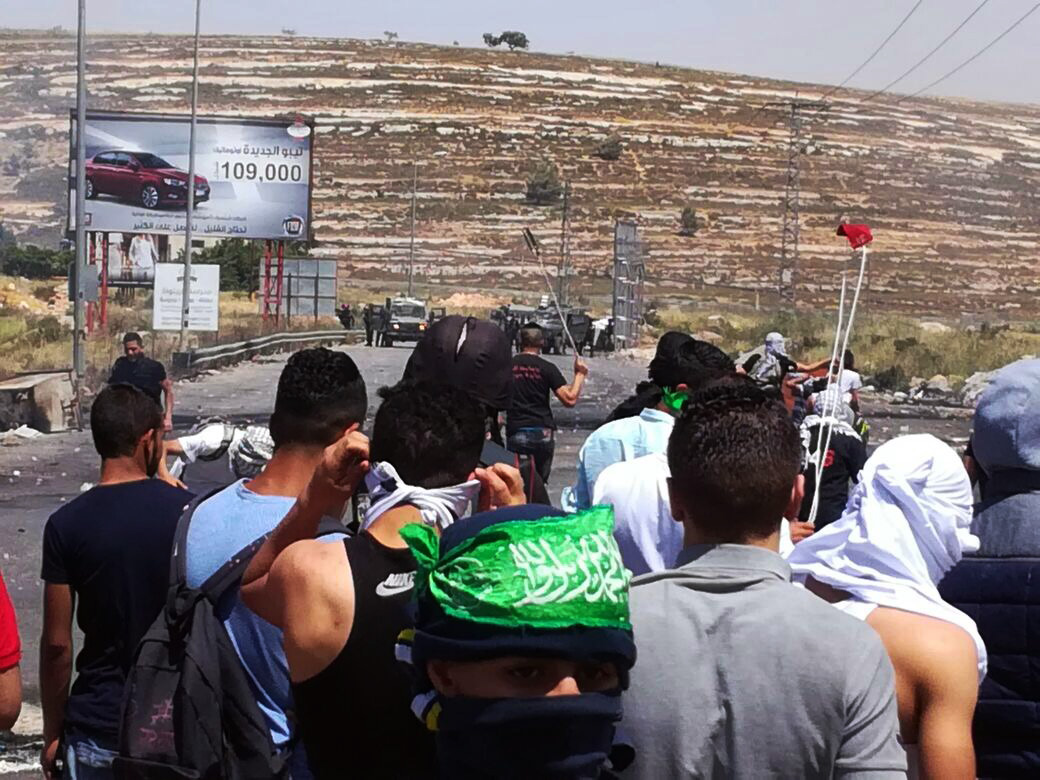 Israeli settlers opened fire on a group of Palestinian activists who had closed off the section of the motorway east of Ramallah injuring 19-year-old Ibrahim Rasem Hamed who was later detained by Israeli forces. Many people were injured and detained across the Occupied West Bank in recent days.
Yesterday evening, at Qalandiya checkpoint barring access from Ramallah to Jerusalem hours of confrontations broke out between the youth and Israeli occupation forces as Israeli forces suppressed a solidarity demonstration firing live ammunition and tear gas until after midnight. One person was injured with a live bullet and several others suffered from tear gas inhalation.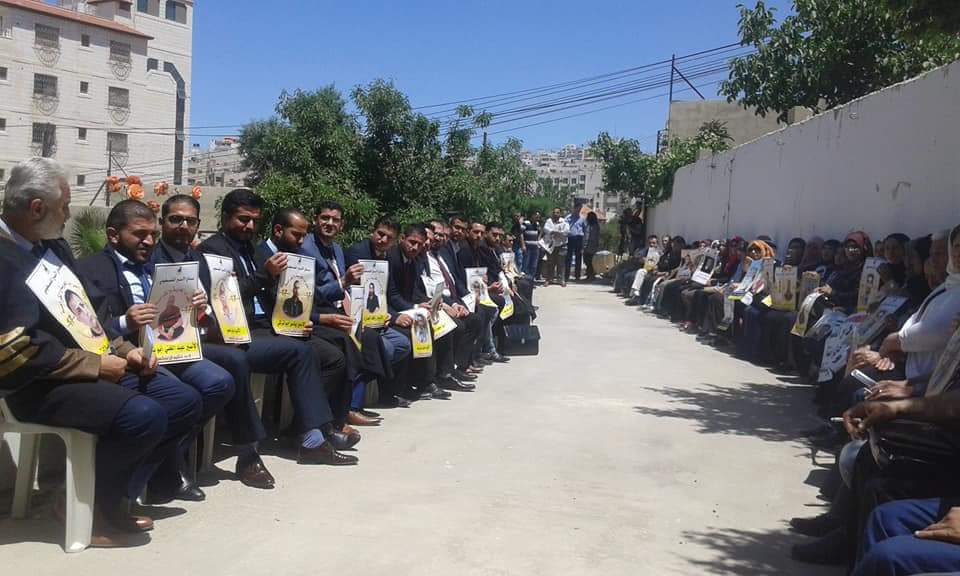 Political prisoner's health is deteriorating at an extremely rapid pace, prisoners have been relocated to prisons that have in-field hospitals and alarm bells are ringing as those who have faced severe health deteriorations in recent days, may be force fed which violate international standards of medical ethics and international law that regard the practice as inhumane.
It is as important as it has ever been that those who support justice take action in supporting the strikers as their lives are on the line for the breath of freedom. Continue to organise in your communities, universities, trade unions and councils. Call on your political parties, establishments, solidarity groups and organisations that work in the field of human rights to demand that prisoner's needs are met. Respect existence or expect resistance.