On Friday, Feb. 21st, hundreds of Palestinians marched in Asira Al-Qibliya, south of Nablus to express their outrage at the confiscation of the adjacent land of the village to Yitzhar settlement. During the demonstration, the protesters planted olive trees in the area as a symbol of rootedness and steadfastness in their land despite of the Israeli occupation's attempts to seize it.
The Israeli occupation forces dispersed the demonstration by using violence against the peaceful protesters causing tens of Palestinians to suffer from suffocation after inhaling gas. The violent response to the demonstration prevented the protesters from planting more olive trees in the area.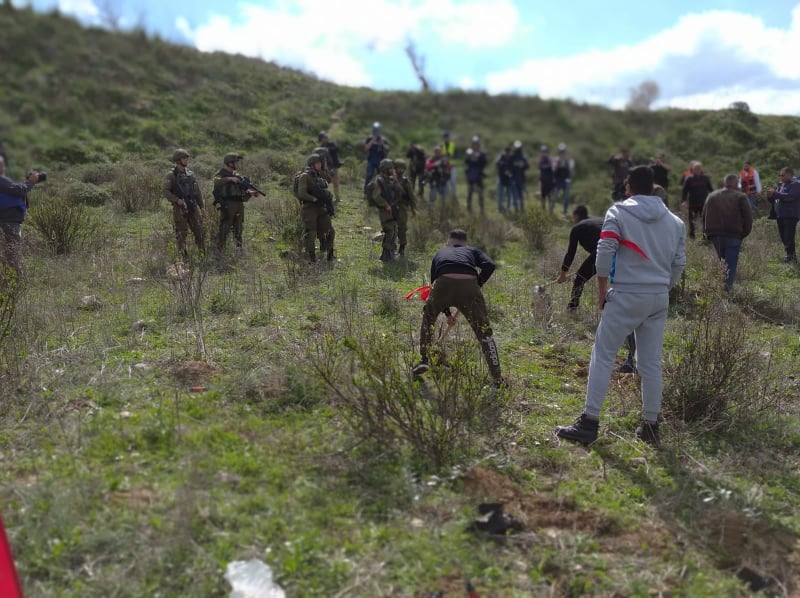 This demonstration is part of a series of protests begun since Trump's announcement of his envisaged peace plan to solve the Israeli-Palestinian conflict through the proposed 'Deal of the Century.'
Jamal Juma', the coordinator of the Anti-Apartheid Campaign (Stop the Wall) stated:
"We peacefully continue to protest in areas threatened with confiscation to strengthen the role of popular resistance and to stand by our people to reinforce their steadfastness amid the settlement expansion that will increase this year after Trump's 'Theft of the Century' has given Israel the green line to enlarge its settler colonial enterprise."
Through popular resistance, Palestinians try to face the US administration's attempts to liquidate their just cause by legitimizing and legalizing the Israeli settler-colonial and apartheid practices resulting in squeezing Palestinians in underdeveloped bantustans.