Yesterday, Friday July 3rd, was a day of rage and unification of struggle as Palestinians in five different areas across the West Bank united to rise up against the de jure annexation of large swaths of occupied West Bank. Palestinians see in the looming de jure annexation of their lands, a move backed by the US administration, a solidification of Israel's settler colonial and apartheid regime subjugating them and obliterating their existence on their land since seven decades.
In Kufr Qaddoum, Qalqilya district, hundreds of unarmed Palestinians took to the streets in a direct confrontation with the armed Israeli soldiers. The protesters commemorated the 9th anniversary of the weekly demonstration against the settlement expansion and the closure of the main street of the village since ten years in a row. By marking the occasion, the protesters also expressed their rage at Israel's de jure annexation of the West Bank.
Kufr Qaddoum protest (photo credit: Kufr Qaddoum popular committe)
The village of Kufr Qaddoum will be one of the most affected villages if the illegal settlements are formally annexed according to the plan. On the one hand, the illegal settlement of Kudumim was built on the lands of Kufr Qaddoum. This would perpetuate the division the construction of Kudumim settlement has created between Kufr Qaddoum village and the governorate of Qalqilya, which is the metropolitan area that the people of Kufr Qaddoum economically depend on. On the other hand, the Israeli occupation confiscated the lands located to the north of the village for 'security reasons' when they closed the main street. The de jure annexation plan would allow the Israeli occupation to tighten its grip over the confiscated lands and the closed street.
Simultaneously, in the village of Aseera Ashamaliyya, Nablus district, the people of the village along with popular activists protested the Israeli occupation's erection of an illegal settler outpost on the lands of Aseera. In the villages of Sanniriya, Qalqilya district, and Bidya, Salfit district, hundreds of Palestinians staged rallies and performed the Friday noon prayer on lands to be formally annexed by the occupation authorities. The people of Abu Dis, northern Jerusalem, also rose up and clashed with the armed Israeli soldiers who tried to suppress the peaceful protest.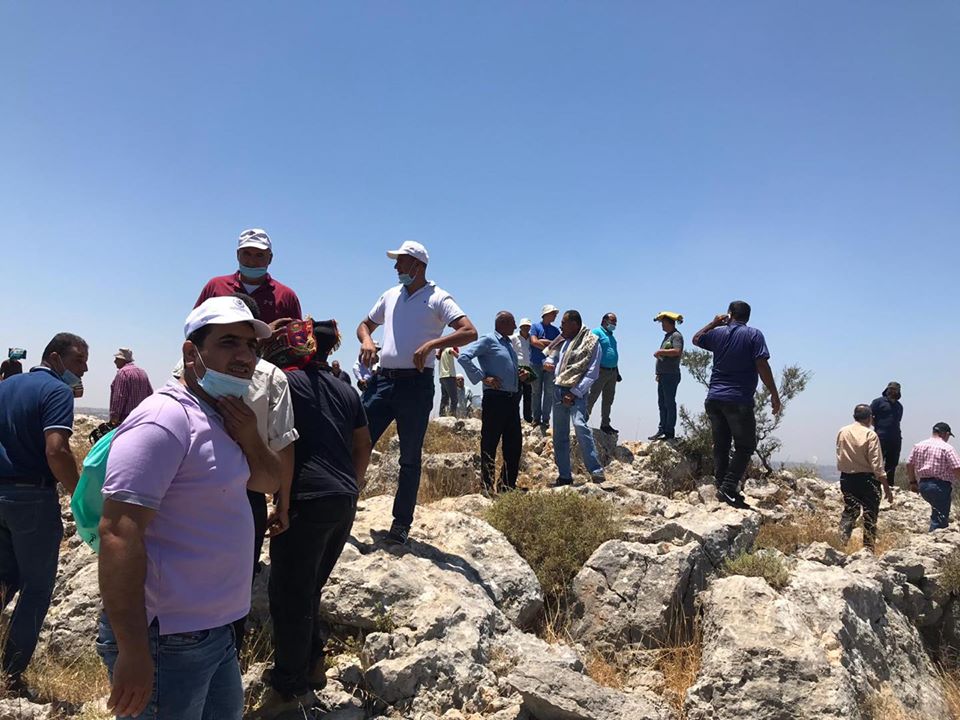 Staged ralley by the people of Bidya and Sanniriya (photo credit: @qalqilya.alhadath)
According to the Palestinian Red Crescent, 23 Palestinians were injured in the town of Abu Dis due to the Israeli occupation's savage and aggressive response to the peaceful protest. One of the 23 casualties in Abu Dis was hit with live ammunition. 21 other Palestinians were injured in the protests of Kufr Qaddoum and Aseera Ashamaliyya.
Since the Israeli occupation government has turned on the countdown clock on Wednesday, 1st July, to formalize the annexation of the West Bank, Palestinians have been protesting in different parts of the West Bank. Their motto is: "Down with the occupation… No to settlement and annexation projects."