Israeli settler-colonialism continues its brutal attacks against the Palestinian people and their right to exist. On November 23, Israeli bulldozers demolished al-Sfai School, Masafer Yatta, south of Hebron.
In a chilling scene, students from al-Sfai school, steadfast in their school, were confronting the Israeli military forces and bulldozers for hours, refusing to leave the school. Children were standing behind the windows watching the Israeli soldiers brutally attacking their teachers.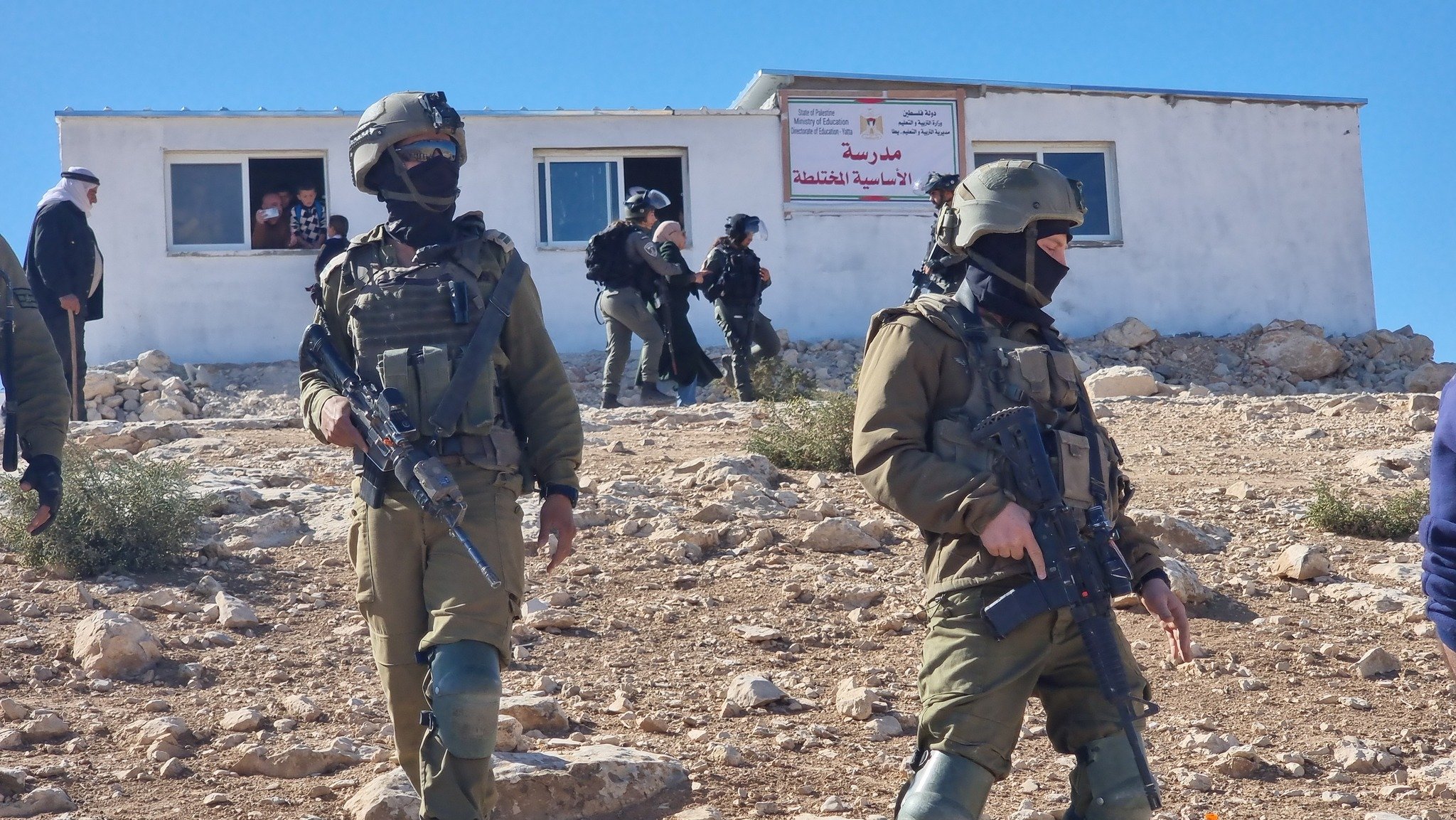 Raed Hudaib, principal of the nearby elementary school in Khallet Ad-Dabe', commented: "Even though they are still young, they are aware of what is happening around them. Students say if the occupation forces demolish our school, they won't stop coming to learn. We can set a tent up or use a cave."
The Israeli demolition of al-Sfai School is part of a systematic colonial plan to replace the indigenous population and control the land for the expansion of settlements.
Israeli apartheid is trying to destroy all vital infrastructure of the Palestinian people in the region, whether schools, health centers, homes, or water networks.
The Israeli apartheid was established on the rubble of ethnically cleansed villages, and now it is trying to continue the ethnic cleansing policy, by attempting to force the Palestinian people to leave their homes and communities and to make space for the expansion of Israel's illegal settlements.
Israel is a colonial regime that terrorizes children and threatens their right to education and to exist. It violates international norms and international law. The school of al-Sfai was built in al-Sfai al-Fauqa village to serve 22 school children from three surrounding communities, al- Sfai al-Fauqa, al-Sfai al-Tihta, and Tuba. These students have long had faced serious difficulties to reach a school.
Despite the fact that international institutions appealed against the demolition verdict, the Israel's apartheid courts have ruled against the appeal.
Yet, Palestinian students continue to struggle against Israel's brutal decisions and attacks, upholding their right to education and to exist. Palestinians in Masafer Yatta are steadfast on their land, despite all criminal ethnic cleansing policies carried out against them.