With the beginning of Ramadan, the State owned Israeli water company Mekorot cut off water supply in the northern West Bank. The most affected areas are currently the Nablus and Jenin governorates. In the meantime, Mekorot guarantees the full supply of water to the settlements located in the same area. So far, the company hasn't offered any justification for the shuts down. Mekorot has been enforcing a water apartheid system for a long time now in the Palestinian people, reselling Palestinians water it has stolen from them. Up to now Palestinians are not allowed to freely dispose of their water resource and are made dependant on Mekorot for 60% of their basic needs of water.
As Ramadan started on 6th of June, Palestinians in up to thirty villages in Jenin and in the villages close to Nablus found themselves in shortage of water. Some villages are already since almost forty days without water. People are being forced to go and buy water at exorbitant prices from water trucks or find different wells or sources in their vicinity, such as local wells. However, Israel enies Palestinians access to most of these water wells, especially in the Jordan Valley. Buying from water trucks increases the cost of water by about 250 NIS per family; an expenditure that a lot of families cannot afford.
Cutting off water in the Holy Month is extremely violent. This month for Muslim Palestinians is a month of spirituality and closeness to God, but also of family gathering and reunion. During Iftar, family eat all together and then wait for Sahur to go to bed. Without water, these gatherings and rituals are made almost impossible. Further, at the current moment, it is particularly hot, with temperatures in the Jordan Valley reaching over 50 degrees.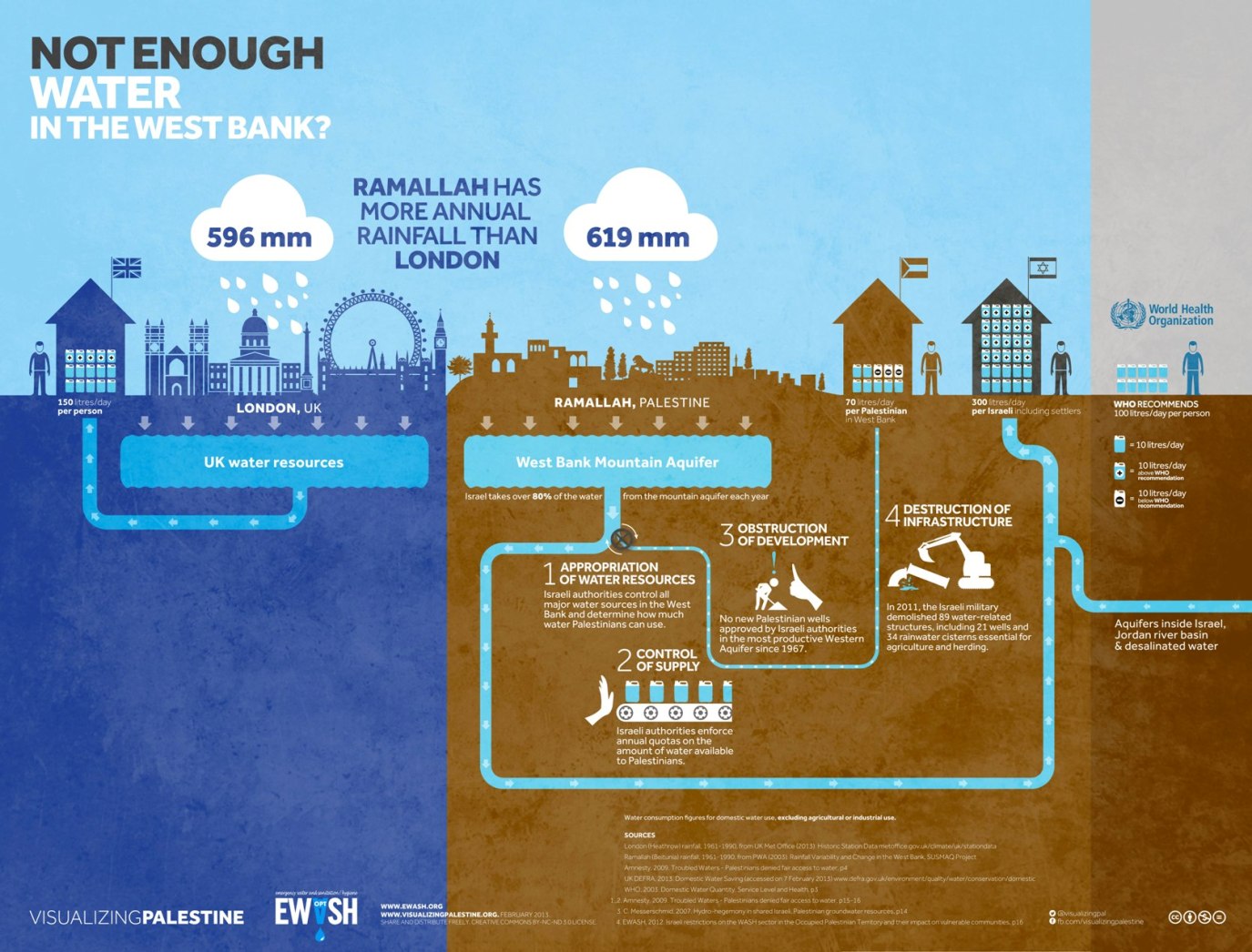 photo credit: EWASH, visualizingpalestine
Mekorot has been systematically violating Palestinian human rights since 1950, when it built Israel's national water carrier that diverts the water of the Jordan River to serve the needs of Israeli citizens. Mekorot has created the myth of a desert that the company was able to convert in a blossomed garden. This rhetoric does not reflect the truth. Historical Palestine is in fact a land full of water resources. Mekorot is currently operating in 42 wells in the West Bank, especially in the Jordan Valley, providing settlements with water and, hence, profiting from them. The vast majority of the wells Mekorot is operating in the West Bank used to be wells for the villages. Palestinians are now prohibited access to them and have to rely on buying water from trucks. Other wells are now isolated from the Palestinian villages by the construction of the apartheid Wall, some of them being seized by Mekorot. Mekorot therefore directly profits from the illegal settlements, illegally appropriated water resources and from the Wall.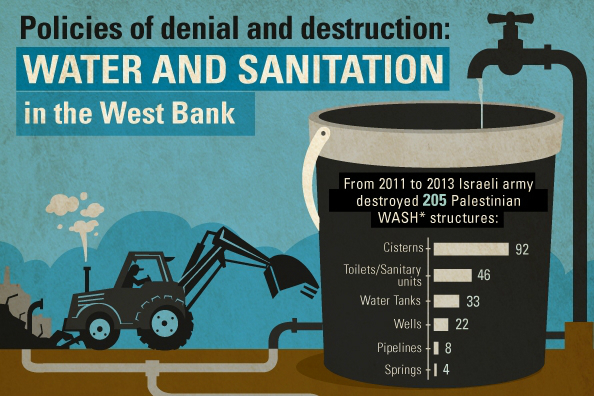 photo credit: thirsting for justice
The discrimination against Palestinians, moreover in this specific time of the year, is systematic: during 'normal' periods, i.e. when Palestinians are provided water, their consumption is 70 litre per capita a day vis-a-vis Israeli 300 litre per capita a day and well below the 100 litre a day per capita recommended by the World Health Organisation. In some rural areas, the water consumption per capita is as low as 20 litre per day.
The water dependency of Palestinians is vital to Israeli policies of apartheid and forced population transfer. When people do not have access to water, then their life is made unsustainable. Since 1967, Palestinians have been prevented from building their own system of extraction of water. Palestinians do not have free access to their own water resources. Water dependency of course affects both the agricultural and industrial sector in Palestine.